Types Of Hot Peppers
Hot peppers add flavor and can really heat up your meal, they are available a number of forms including fresh, dried, as spices, in seasonings and sauces. Some people really enjoy hot, spicy foods while other's eat them for their health benefits. Hot peppers are the fruit of an American plant that belongs to the same family as the tomato and the potato, the Solanaceae or nightshade family. Sweet, hot or chili peppers both belong to the plant Genus Capsicum. There are about 200 varieties which vary in the intensity of the heat they produce. They can be thin and tapering, round and cylindrical or large and curved. In colour they vary from yellow through green to red and almost black.
Some common varieties of hot peppers are:
The chili pepper is a red medium hot pepper, often dried and sold whole or in flakes.
The habanero pepper is small and lethally hot.
The green jalapeno pepper is fairly hot.
A smoke-dried jalapeno is called a chipotle.
Cayenne Pepper is a long, thin fairly hot fruit usually dried and ground into powder.
The ancho a dried chilli and is sweet.
Paprika is a sweet, not a hot pepper and is commonly dried and ground into a powder.
In 1912 Wilber Scoville invented a scale for rating the amount of capsicum a type of pepper contains. It runs from 0 units for sweet peppers to a mind blowing 300,000 for habaneros and Scotch bonnets.
Health Benefits of Hot Peppers
Hot peppers are believed to have a number of health benefits. They are rich in vitamin C, Vitamin A, most B vitamins, potassium, magnesium, iron and phytochemicals called capsaicinoids. Studies are on going as to the benefits. Did you know that eating foods spiced with chili (capsaicin in particular) might just help you lose weight? Hot peppers may be able to provide you with some relief from a stuffed nose or congested lungs by thinning and clearing mucus. They may even help prevent cardiovascular disease or reduce the amount of insulin a diabetic requires to lower blood sugar after a meal. Applied topically, capsicum (from hot peppers) offers a pain relief remedy as a gargle for a sore throat or for sore muscles with Watkins red liniment. Some spices, including hot peppers, may have antibacterial properties to help prevent food spoilage.
Here's a cool tip, if you want to cool off and burn some extra calories! A meal that includes hot peppers can boost your metabolism for several hours, helping to burn extra calories. Ironically, hot peppers can also help you stay cool iin hot weather by stimulating the cooling center of the brain. They can also help to lower blood cholesterol and reduce blood clots, cutting the risk of heart attack and stroke. As if that weren't enough, they might even make you feel better by stimulating the release of endorphins, substances in the brain that act as natural painkillers and mood enhancers. So, if you enjoy a meal spiced up with hot peppers or sauces, the associated benefits are simply an added bonus!
Note: Information presented on this site is for informational or entertainment purposes only. These statements have not been evaluated by the Food and Drug Administration and are not intended to diagnose, treat, cure or prevent any disease. Always consult your healthcare or medical professional for advise.
Watkins Hot Pepper Sauces
Most of the hot pepper seasonings and sauces mentioned below are no longer available. I recommend you go here to See All Watkins products!
Hot pepper sauces are an easy and convient way to add some spicy heat to your meal. Watkins Jalapeno Hot Pepper Sauce is a Mexican style sauce which is great in guacamole, or wherever you would use fresh jalapenos. Watkins Calypso Hot Pepper Sauce has a complex, sweet and spicy flavor that goes perfectly with rice and beans, curries and seafood dishes. Add one of these two hot sauces to dishes when cooking them or sprinkle some your food on at the table as a condiment. Watkins Inferno Sauce is a thick sauce made with tomatoes, red chiles and jalapenos, and a touch of sweetness. It makes a great dipping sauce alone, mixed with sour cream or cream cheese or simply pour some on your plate!
Watkins Hot Pepper Spices And Seasonings.
Watkins offers you a variety of spices and seasoning containing hot peppers so you can cook delightful dishes and make them as hot as you like. Here are few for you to try. For real heat add some Watkins Cayenne Pepper, or Watkins Red Pepper Flakes to dishes or try a few drops of Watkins Chipotle Liquid Spice for smokey heat. Watkins Organic Chili Powder, Watkins classic Chili Powder or Chili Seasoning are all perfect for chili con carne and other chili dishes. Whip up a quick and easy salsa with Watkins Salsa Seasoning. Add flavor and heat to all your fish and seafood dishes with Watkins Fish and Seafood Seasoning. Watkins Mexican Soup and Seasoning makes a quick and easy base for a variety of Mexican inspired dishes. While Watkins Paprika is not a hot pepper I've included this spice as this is a commonly used spice in many recipes and comes from the same family of plants with the associated benefits.
For appetizers, dips, salad dressings, and sandwich fillings with a bit of heat try Watkins Blazin' Cajun or Watkins Salsa and Sour Cream Snack and Dip Seasonings.
Hot Peppers For Pain Relief And As An Anti Inflamatory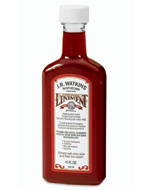 Watkins red liniment contains red pepper extract (capsicum) as a topical pain reliever. Simply pat on the effected area for the temporary relief of minor aches and pains of muscles and joints associated with arthritis, backache, strains and sprains. Learn more about Watkins pain relieving "red" liniment and how to use it.